Indian NGOs inform UNHRC about efforts towards women's empowerment, gender equality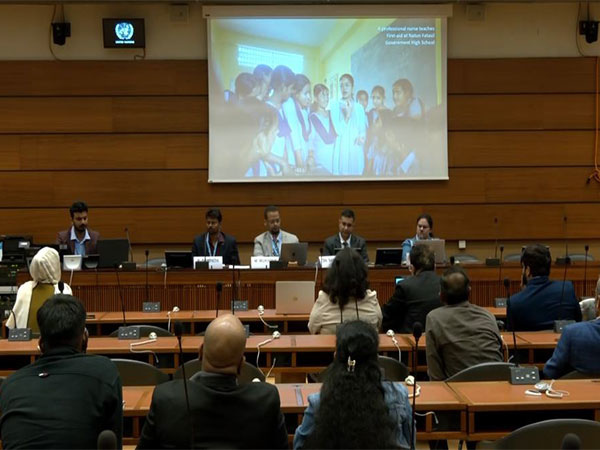 AKIPRESS.COM - Nongovernmental organizations (NGOs) from India participated at the 54th Session of the United Nations Human Rights Council informing the world about the country's efforts towards women's empowerment and gender equality, ANI reported.
Speaking during the UN's Annual discussion on the 'Integration of a Gender Perspective', a social activist and founder of Akshar Foundation, a women-led NGO based in India, Parmita Sharma said they believe the goals of poverty eradication and gender equality go hand in hand.
In her intervention, Parmita Sharma said, "To achieve the goal of equal integration of women's perspective in the human rights council and other UN bodies, and in government more broadly, we need a stronger focus on girls' education." She said that Akshar's model school of poverty eradication measures to increase literacy and employability among underprivileged girls, two of the main factors that contribute to gender discrimination in underprivileged communities. "With vocational training in nursing, tailoring, teaching, electronics repair, combined with apprenticeships to professionals, we can ensure girls secure gainful livelihoods and the ability to provide for themselves and their families," Parmita told the United Nations. "We also provide training for girls in self-defence and the National Cadet Corps with mostly girls training for potential careers in law enforcement.
With these measures, we have witnessed girls staying in school for longer and a reduction in child brides in the underprivileged communities we serve with girls delaying marriage and child-rearing until adulthood a departure from their mother's generation," she further said. She said that India has recently passed a new law reserving one-third of Parliament seats for women. "We ask the Council and other international bodies to do more to increase participation of girls and young women from developing nations in sessions like this one with scholarships and travel assistance", she said while adding that this will have a multiplier effect, letting all the girls in their communities know that they can aspire to be more and participate on a global stage.
A side event was also organised by Rajasthan Samgrah Kalyan Sansthan (RSKS) with a theme titled "Ensuring Gender Equitable Practices at Every Place through SAMATVA and highlighting good approaches to development and achieving SDGs." Speaking to ANI, Hansraj Singh, Communication manager of Rajasthan Samgrah Kalyan Sansthan said, "At UNHRC we have shown the new campaign known as Samatva which means equitable practices. It means every girl and woman should have equal opportunities at every business and every government house or at every workplace so that the women and girls would be working from top to bottom level and it will ensure that equitable practices are followed all around the world.
He further said, "We also showed a Samadhwa logo which could be followed by everyone like the workplaces which are showing equitable practices, they could adapt our Samadhva logo which could mean that they are following Equitable practices and women are giving priority." Shweta Tyagi, Chief functionary of India Water Foundation said, that all the developments taking place in India for the past decade have been women-led. She spoke about the various schemes that have been introduced in India like Jal Jeevan Mission and Swachh Bharat Mission which have helped women.
"All the developments that are happening right now in India for the past decade are women-led. If you look at the different schemes that India has brought out especially Water and Sanitation at I spoke on, women are at the basis of all those schemes. See if you talk about the rural area there are schemes like the Jal Jeevan Mission or the Swachh Bharat Mission that have been working and these schemes helped the maximum number of women because it was the onus of women to bring water from distances, kilometers and the women were going through the indignity of open defecation without toilets and belligers. So now it is them who have benefited the most," Shweta Tyagi told ANI. "And all the development that is happening, whether you look at the Ujjwala Yojana or other schemes that have been brought out in India, they are all women-led. So I think this is something that we should showcase at every platform that India is a country which is to make a lot for women and every of their development is women-led," she added.
Recently, the UN High Commissioner for Human Rights Volker Turk welcomed the passage of the Women's Reservation Bill in India, which will reserve one-third of seats in national and state parliaments for women. This landmark bill, passed by both houses of parliament, will also constitutionally entrench women's representation in parliament, and be a transformative move in upholding the right to participation for women and gender equality in India. According to the Spokesperson for the UN High Commissioner for Human Rights, Ravina Shamdasani, the UN High Commissioner called on parliamentarians around the world to adopt legislative measures, including, where necessary, gender quotas in order to ensure women's voices at the centre of their nations' political discourse, in full parity with others.