Gurbanguly Berdimuhamedov meets with Vice Premier of State Council of China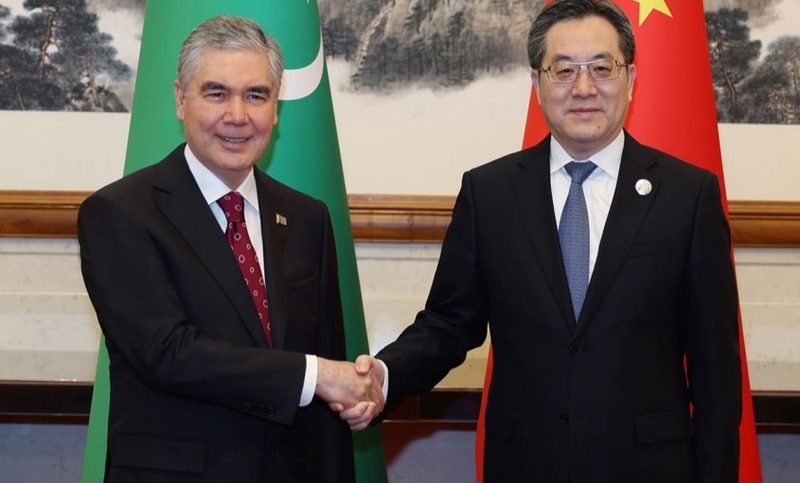 AKIPRESS.COM - Chairman of the People's Assembly of Turkmenistan Gurbanguly Berdimuhamedov held a meeting with the first vice premier of the State Council of China Ding Xuexiang during a working visit to Beijing on October 18, the Foreign Ministry of Turkmenistan said.
The sides discussed the current state and prospects for the development of Turkmen-Chinese cooperation, which has reached a level of strategic partnership in recent years.
Speaking about the intention of the parties to continue to closely interact both in a bilateral and multilateral format, the parties noted closeness of views of two states on issues of the world agenda.
The interlocutors also considered issues of Turkmen-Chinese cooperation, including the construction of the Turkmenistan-China transnational gas pipeline.
The main approaches of the parties to further building a constructive interstate dialogue were noted, the level of which was appreciated by President Serdar Berdimuhamedov and Chinese President Xi Jinping during the visits of the head of Turkmenistan to China this year.
Among the priority areas of bilateral cooperation were the trade and economic sphere, fuel and energy and transport and communications sectors, industry, agriculture and others. Much attention was paid to the issues of intensifying traditional cultural and humanitarian ties.
The established close ties between legislative bodies were noted, such as the creation of an inter-parliamentary friendly group of the Parliament of Turkmenistan and the National People's Congress of China.