Foreign Ministers of Turkmenistan and Romania hold talks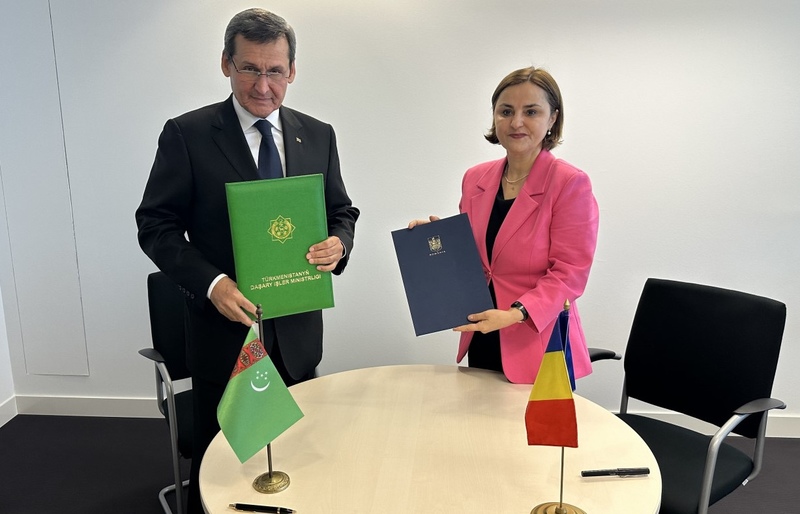 AKIPRESS.COM - Minister of Foreign Affairs of Turkmenistan Rashid Meredov and Minister of Foreign Affairs of Romania Luminita Odobescu held bilateral negotiations as part of the 19th ministerial meeting "Central Asia - European Union" on October 23, the Foreign Ministry of Turkmenistan reports.
L. Odobescu emphasized the role of Central Asia as a key partner of Romania. It was noted that the country acts as a link that strengthens cooperation between the Central Asian region and the EU.
Considering the political and diplomatic aspects of interaction, R. Meredov drew attention to the history of bilateral relations. The importance of the first visit of the President of Turkmenistan to Romania in 2008 was emphasized.
The parties recognized the importance of mutual support in the international space. In particular, the Turkmen side expressed gratitude to Romania for its support in the adoption of resolutions of the UN General Assembly initiated by Turkmenistan.
The main attention in trade and economic cooperation was paid to the potential of joint projects, including the fields of transport and energy. The parties noted cooperation within the framework of the Working Group on Energy. The importance of the Caspian Sea - Black Sea transport corridor was emphasized.
The parties confirmed their interest in continuing cooperation in the field of digitalization.
They also discussed issues of humanitarian cooperation. Particular attention was paid to issues of interaction in the field of education, as well as exchange programs. Currently, about 300 Turkmen students are studying in Romania. The commitment to partnership was reinforced by the Cooperation Program signed in 2023 between the ministries of education of both countries. In addition, the Turkmen side confirmed the importance of short-term diplomatic training for young diplomats at the Nicolae Titulescu University.
The ministers signed an Action Plan for 2024-2025 between the Ministry of Foreign Affairs of Turkmenistan and the Ministry of Foreign Affairs of Romania.