Israeli authorities comment on riots in Dagestan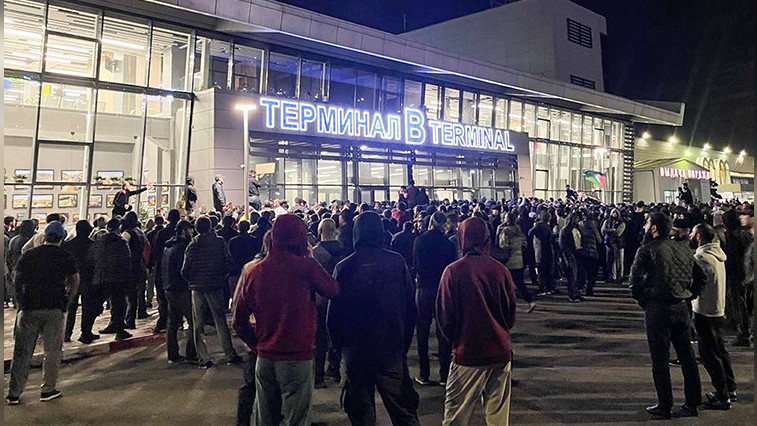 AKIPRESS.COM - "The State of Israel views with utmost gravity attempts to harm Israeli citizens and Jews anywhere," the statement of the Prime Minister's Office and the Ministry of Foreign Affairs said.
"The Prime Minister's Office, the Ministry of Foreign Affairs and the National Security Council are monitoring the development of events in southern Russia, in Dagestan district," said the statement.
Israel expects the Russian legal authorities to safeguard the well-being of all Israeli citizens and Jews wherever they are and to take strong action against the rioters and against the wild incitement being directed against Jews and Israelis.
Israeli Ambassador to Russia Alex Ben Zvi is working with the Russian authorities to secure the well-being of Jews and Israelis at the site.
The day before, riots occurred at Makhachkala airport due to the arrival of a flight from Israel. The crowd rushed into the terminal building and then onto the runway in search of those arriving from Israel. Protesters chanted "Allahu Akbar" and slogans in support of Palestinians amid the military conflict in the Gaza Strip. The Federal Air Transport Agency closed the airport until 02:59 Moscow time on November 6. Later, the department admitted that it would be opened until 02:59 on October 31.
According to the Dagestan Ministry of Health, more than 20 people were injured during the unrest. Ten of them are hospitalized, two are in critical condition.
The Investigative Committee of the Russian Federation opened a criminal case into riots. 60 people were detained, the Ministry of Internal Affairs reported. The head of Dagestan, Sergei Melikov, called the riots at Makhachkala airport an "attempt to destabilize the situation" in the republic. According to him, the unrest was supervised from abroad, including through "pro-Ukrainian Telegram channels." He said that he was ashamed of the riots that took place at the airport.