Turkmenistan and Kazakhstan aim to strengthen strategic partnership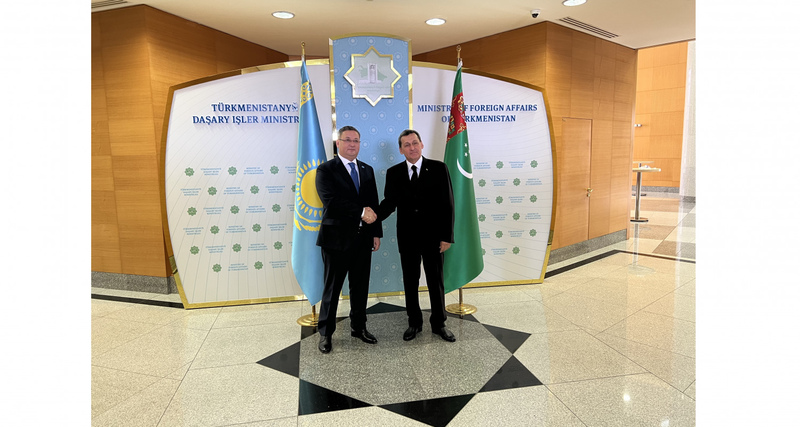 AKIPRESS.COM - Deputy Prime Minister of the Cabinet of Ministers of Turkmenistan, Minister of Foreign Affairs of Turkmenistan Rashid Meredov held talks with Deputy Prime Minister, Minister of Foreign Affairs of the Republic of Kazakhstan Murat Nurtleu, who arrived in Ashgabat on an official visit.
Various aspects of bilateral cooperation in the priority areas of political, diplomatic, trade, economic, cultural and humanitarian spheres were discussed.
FM Rashid Meredov noted that the relations between Turkmenistan and Kazakhstan have reached a qualitatively new level and have acquired the character of a strategic partnership.
Along with this, the Foreign Ministers agreed that high-level contacts play a decisive role in intensification of interaction between the two countries. In this regard, special attention was paid to the implementation of the agreements reached during the state visits of President of Kazakhstan Kassym-Jomart Tokayev to Turkmenistan in October 2021 and President of Turkmenistan Serdar Berdimuhamedov to Kazakhstan in October 2022.
A high level of cooperation between the two states in a multilateral format was noted, in particular in the framework of the UN, OIC, ECO, CIS, as well as in the CA+ format. In this context, gratitude was expressed to the Kazakh side for the support of international initiatives and co-authorship of UN resolutions initiated by Turkmenistan.
Speaking about the progressive development of interparliamentary relations, the parties expressed the expediency of organizing a meeting of the Turkmen-Kazakhstan interparliamentary group of friendship next year.
The Foreign Ministers also agreed to increase the pace and dynamics of interaction between the Foreign Ministries of the two countries.
Particular attention was paid to the aspects of cooperation on the Caspian Sea and within the framework of the IFAS.
Noting the consistent expansion of the trade and economic partnership, the interlocutors agreed to take coordinated measures to ensure the growth of trade volumes, including through the activation of the Working Group on increasing trade and expanding the range of goods supplied between Turkmenistan and the Republic of Kazakhstan, as well as through the holding of the Turkmen-Kazakh business council. And exchange of business delegations. In this context, an important role is given to complex work within the framework of the joint Intergovernmental Turkmen-Kazakh commission on economic, scientific, technical and cultural cooperation.
During the meeting, the parties specified the main directions and perspectives of cooperation in the fuel and energy complex, oil and gas and chemical industry, textile sector, agriculture, ecology and environmental protection, issues of rational use of water resources in the region, transport and logistics, communications and telecommunications.
Following the results of the negotiations, in order to further enhance joint work in the political and diplomatic direction, the Cooperation Program between the Ministries of Foreign Affairs of Turkmenistan and the Republic of Kazakhstan for 2024-2026 was signed.