Vietnam and Mongolia agree to strengthen legislative cooperation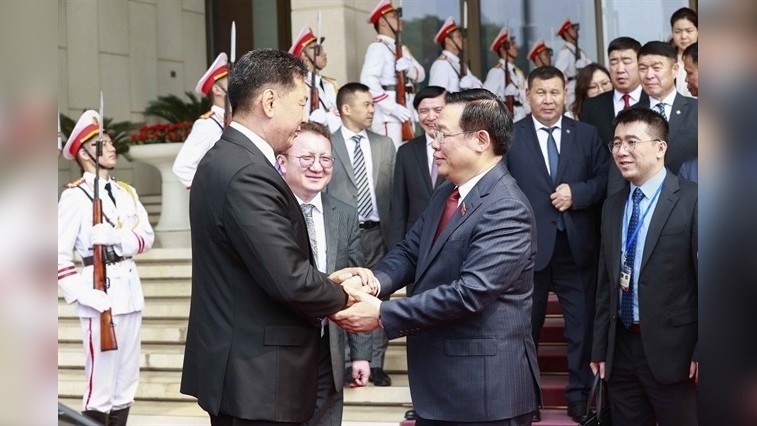 AKIPRESS.COM - Chairman of the National Assembly of Vietnam Vương Đình Huệ and President of Mongolia Khurelsukh Ukhnaa pledged to promote cooperation between the two legislative bodies and consolidate political trust between the two countries, looking towards celebrating the 70th anniversary of diplomatic relations, VNS reports.
During the talks on Thursday in Hanoi with the visiting Mongolian President, Huệ affirmed that the Vietnamese NA is always in support of strengthening Vietnam-Mongolia relations, as well as makes every effort to consolidate the partnership.
President Khurelsukh affirmed Mongolia's policy for peace and expanding cooperation with the international community. He expressed his hope to cooperate more closely with Vietnam, an extremely important partner of cooperation in Mongolia's third neighbour policy.
The Vietnamese NA Chairman said the NA always values and wishes to develop friendly and cooperative relations with Mongolia on all channels of party, NA, government and people-to-people exchanges.
Huệ said in the overall relationship between the two countries, the parliament cooperation plays an important role and achieves positive results. The two countries' parliaments signed a cooperation agreement for the 2018-22 period.
Leaders of the two parliaments and the Vietnam - Mongolia Parliamentary Friendship Group have maintained activities to exchange delegations, share experiences and provide consultations and support each other at regional and international multilateral forums.
The Mongolian leader affirmed his readiness to promote cooperation between the two countries' legislative bodies, thereby consolidating and further strengthening political trust between the two countries.
The Chairman of NA expressed hope that the two countries will continue to support each other at regional and international cooperation forums, mechanisms and organisations, especially the United Nations, the non-aligned movement, the Asia-Europe Cooperation Forum.
Mongolian President Khurelsukh Ukhnaa said Mongolia values international cooperation in environmental protection, response to climate change, human rights, and gender equality. Mongolia successfully organized the international conference of female officers participating in United Nations peacekeeping forces, the first female foreign ministers Conference, and is preparing to host the Women's Leadership Forum in 2024 to promote the role and participation of women in national development, he said.
He hoped that Vietnam will send a delegation to participate and contribute ideas. Mongolia is also expected to host COP17 on desertification in 2026.