Mongolia and Germany consider cooperation in environment and tourism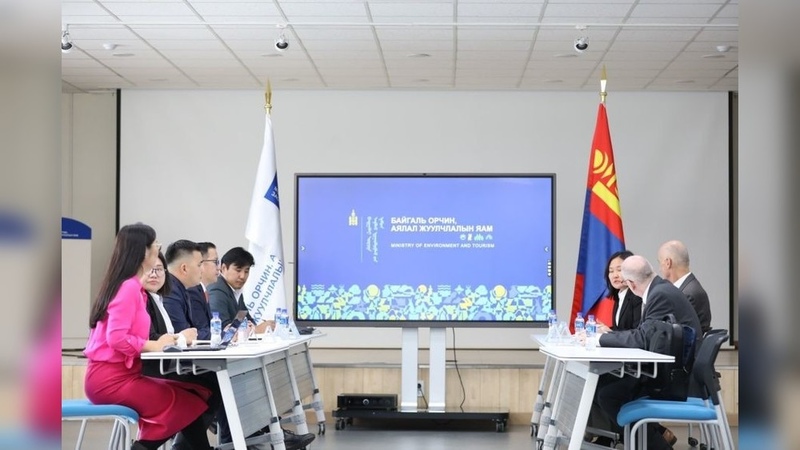 AKIPRESS.COM - Minister of Environment and Tourism of Mongolia Bat-Erdene Bat-Ulzii met Ambassador of Germany Helmut Rudolf Kulitz Head of the Development Cooperation Department Ido Weber, Montsame reported.
Minister B. Bat-Erdene expressed gratitude for jointly implementing projects and programs through the Green Climate Fund, Global Environmental Facility, and Adaptation Fund and for concerning the issue of permafrost in Mongolia. The Minister also emphasized that the two countries have been developing cooperation in forests, biological diversity, nature protection, and climate change for a long time.
Ambassador Helmut Kulitz emphasized the call by international financial institutions not to finance activities that harm the environment. Noting that investment in environmental protection can be increased, Helmut Kulitz asked to bring together similar ideas and views of the two countries at the upcoming 2023 UN Climate Change Conference (COP28), which convenes in Dubai, United Arab Emirates, from November 30 to December 12.
The Ministry of Environment and Tourism is working with professional organizations to finalize action plans on climate change adaptation within 2023. Climate change mitigation involves many issues including agriculture, pastures, land use, water, forests, desertification, and soil and vegetation protection. The two sides agreed to convene with the participation of experts of the two sides before the COP28 Conference to coordinate their actions.
Minister Bat-Erdene noted that a majority of tourists who visited Mongolia in 2023 were from France, and he stressed that Mongolia is interested in increasing the flow of tourists from Germany. As the government announced 2023-2025 as the Years to Visit Mongolia and referring to the experience as a co-organizer in the international exhibitions ITB Berlin and CMT, the Minister requested support for the Years to Visit Mongolia to promote the tourism industry.