President of Mongolia meets with IRU Secretary General to discuss trade and transport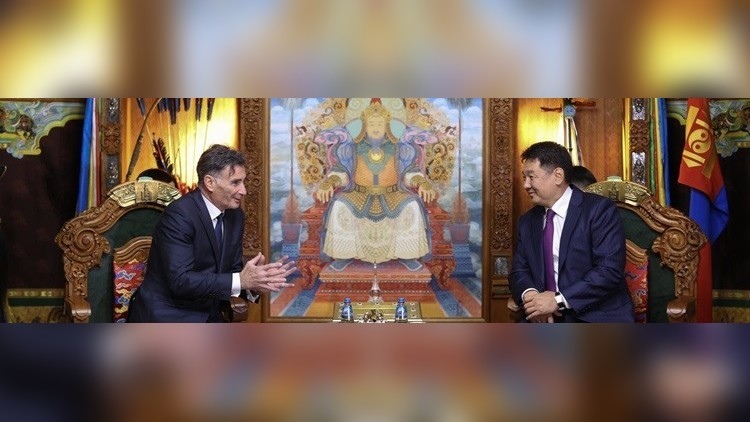 AKIPRESS.COM - IRU Secretary General Umberto de Pretto and the President of Mongolia have held high-level talks on measures to further streamline trade and professionalise the country's road transport industry.
A rapidly evolving transit and transport hub, Mongolia can cement its land-linked status with tried-and-tested UN conventions and professionalisation, IRU Secretary General Umberto de Pretto stressed during his meeting with President of Mongolia Ukhnaagiin Khurelsukh.
Mongolia has already made significant development gains over recent years. IRU encourages Mongolia to continue acceding to other key UN conventions in addition to TIR (Transports Internationaux Routiers) and CMR (Convention relative au contrat de transport international de Marchandises par Route) to further elevate its role as a trade and transit hub.
Umberto de Pretto also emphasised that TIR is the key trade facilitation tool ensuring seamless cross-border movements and enabling the implementation of the WTO's Agreement on Trade Facilitation and the UNESCAP's Agreement on the Asian Highway Network.
The two also discussed the ongoing professionalisation of Mongolia's road transport industry. IRU member the National Road Transport Association of Mongolia (NARTAM) is continuing its efforts to establish a framework for harmonised training, compliant with high-level international quality standards. With support from regional development partners, IRU and NARTAM will launch a major project to implement IRU Academy training programmes in 2024.
Furthermore, IRU's Secretary General held separate talks with the Minister of Road and Transport Development of Mongolia, Byambatsogt Sandag, and the Director General of the Customs Central Administration of Mongolia, Otgonjargal Regjiibuu.
The focus was put on additional road transport capacity-building initiatives related to the geographical expansion of Mongolian operations, the transport of dangerous and perishable goods, as well as soft measures, notably the full deployment of TIR-EPD, allowing transport companies to send advance cargo information to customs for better risk management, and the implementation of express TIR Green Lanes at borders between Mongolia and its neighbours.