Intergovernmental Turkmen-Iranian Commission on Economic Cooperation holds meeting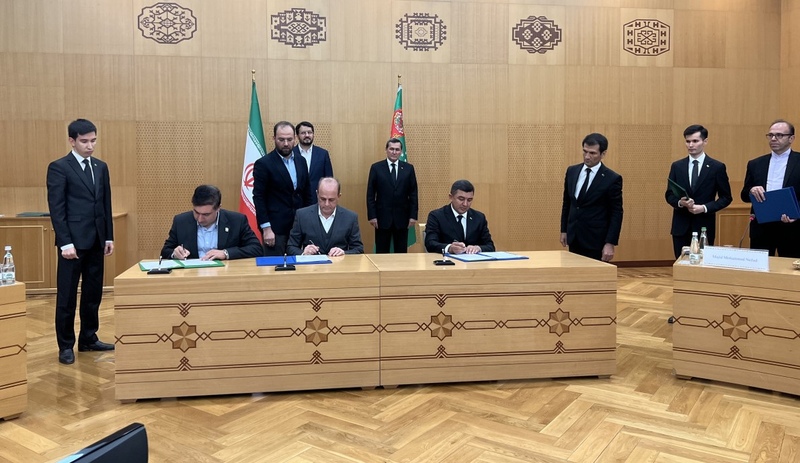 AKIPRESS.COM - The 17th meeting of the Intergovernmental Turkmen-Iranian Commission on Economic Cooperation was held in Ashgabat on November 17-18, the Foreign Ministry of Turkmenistan reported.
The meeting was held under the leadership of Minister of Foreign Affairs of Turkmenistan R.Meredov and Minister of Road and Urban Development of Iran M.Bazrpash.
The sides stated that mutually beneficial ties are being implemented between Turkmenistan and Iran in a wide range of areas of political, diplomatic, trade, economic, cultural and humanitarian spheres.
Representatives of Turkmenistan and Iran discussed the development of bilateral relations in trade and economics, in the field of transport and logistics, oil and gas sectors, industry, agriculture and water management, in the field of investment and standardization, and analyzed the progress in implementing the decisions of the previous meeting of the Intergovernmental Commission.
In the context of increasing cooperation in the fuel and energy sector, the Turkmen side announced readiness to increase the volume of supplies of Turkmen natural gas to Iran via the Korpeje-Kurt-Kui gas pipeline.
In the field of transport, the Turkmen side proposed intensifying the functioning of the transport and transit corridor along the route China-Kazakhstan-Turkmenistan-Iran.
The Turkmen side also put forward a proposal to create trade and economic zones on certain sections of the Turkmen-Iranian border.
The parties considered issues of developing cooperation between the regions of the two countries, in the fields of science and education, culture, healthcare, sports and tourism, and environmental protection.
The Protocol of the 17th meeting of the Intergovernmental Turkmen-Iranian Commission on Economic Cooperation was signed following the talks.
The Turkmenenergo State Power Corporation, TAVANIR Company and Sanergy Pishro Export and Energy Promotion Company concluded the framework agreement to facilitate the financial process for implementation of Turkmen portion of Mary (Turkmenistan) – Mashhad (Iran) Power Transmission Line.
Memorandum of Cooperation between the State Agency for Road Construction Management and the Ministry of Roads and Urban Development of Iran was concluded regarding the construction of the Gumdag-Etrek-Iran border highway.