Central Asian researchers receive financial support from $5000 to 20,000 for mountain society development related researches
AKIPRESS.COM -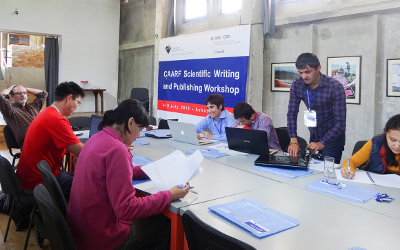 Fifteen researchers from Tajikistan, Kyrgyzstan and Afghanistan participated in the scientific writing and publishing seminar held on July 6-10 in Chon-Kemin district, Kyrgyzstan, the University of Central Asia said.
The workshop is the second in a series of capacity building initiatives organised by the University of Central Asia's Mountain Societies Research Institute (UCA MSRI), under the University's Research and Public Policy Initiative, a project supported by the International Research Development Centre, Ottawa, Canada. The first workshop, on Research for Development, took place last year in Dushanbe, Tajikistan.
The researchers are the first cohort of MSRI's Central Asia and Afghanistan Research Fellowship (CAARF), a select group whose research projects are being advanced with international mentorships, training, and, for 14 researchers, financial support ranging from $5,000 to 20,000 each. Their research topics are relevant to mountain society development, covering themes such as food security, natural resource management, on- and off-farm livelihoods, disaster risk reduction, labour migration and remittances, and human and ecosystem adaptation to climate change.
Since the first workshop on Research for Development, most CAARF fellows have completed their field work and begun their analysis. A few have published their research findings and presented their work at conferences.
The training sessions focused on enhancing participants' mastery of the principles and skills of academic writing and understanding of the rules, trends and formats of writing and publishing in their academic fields in an international context. More practically, the training assisted the fellows in developing academic articles based on their research supported by CAARF, understanding their target audiences, as well as developing personal publication strategies. The training included lectures, guided group sessions and individual coaching.