LIVE updates: Ex-President Atambayev's house stormed, several wounded
Photo: AKIpress
AKIPRESS.COM - The shootout is reported to have taken place in the house of ex-President Almazbek Atambayev in Koi-Tash village.
The special task force was storming the house. Dozens were wounded. Atambayev was meeting with his supporters when the storm started.
The chronology of events (scroll down for updates):
8.20 pm: The house is being stormed by special task force.
8.25 pm: The helicopter flew above Koi-Tash.
The press service of the Interior Ministry of Kyrgyzstan can not be reached for comments.
The press service of Chui region police department received a report about shootout in Koi-Tash. The police team was dispatched to the scene.
8.32 pm: Five ambulance cars were dispatched to Koi-Tash, Chui region coordinator of the Ministry of Health said.
8.35 pm: The wounded people were allowed to leave the house. Five wounded people were allowed to exit.
8.37 pm: The road to Koi-Tash village has been blocked. Ambulance cars are stuck on their way to the scene.
8.39 pm: A group of people attempted to enter the yard of the house. The special task force fired several shots to bar them from entering.
8.53 pm: April TV Channel reports the helicopter is flying above the village. Near 300 people gathered near the house.
Around 300-400 people are near the house. People are throwing stones. People try to break through to the gate, but special task force officers throw stun grenades. The road is blocked. People are cutting trees to make barricades for the house, April TV channel reports.
9.26 pm: A big number of police officers on special vehicles are stationed at the entry to Koi-Tash village.
9.30 pm: MP Irina Karamushkina has demanded to withdraw the special task force. "Take away the special task force, otherwise you will answer before the tribunal tomorrow," she said.
9.45 pm: Explosion and shots are heard near the house.
9.59 pm: The press center of the State National Security Committee said the operation is ongoing. Only rubber bullets were used, the press center said.
9.55 pm: Supporters of Atambayev have barricaded inside the yurt-shaped building that was used by SDPK for press conferences.
10.00 pm: Explosions and shootout occur at the auxiliary buildings at Atambayev's house.
10.05 pm: Atambayev's supporters broke through the gate and entered the yard. The shootout is ongoing. The trees and some mats are on fire.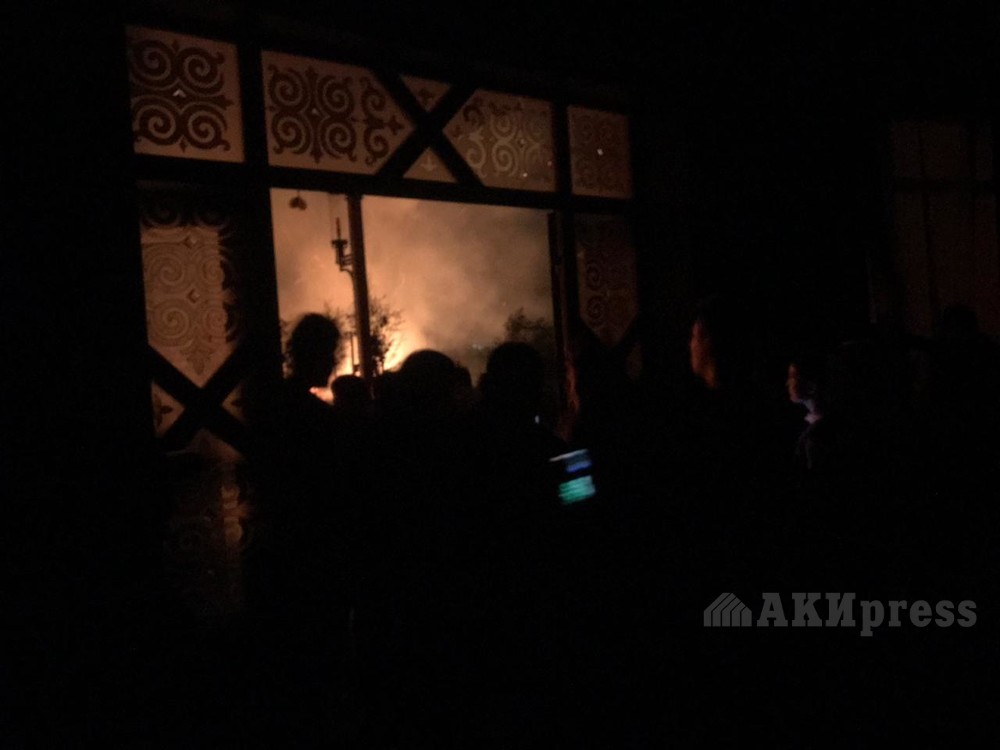 10.15 pm: The daughter of Almazbek Atambayev, Aliya Shagieva said on social media page that Almazbek Atambayev is in Koi-Tash.
"Nobody has detained him and it is lie that he is allegedly in safety. He is still in Koi-Tash," Shagieva said.
10.25 pm: A group of people tries to enter inside tyhe house. Several windows were broken.
10.40 pm: Atambayev is at home. He was welcomed with applaud by his supporters. His close crony, Farid Niyazov, said people will decide what further steps to take. He said the special task force used force against women and children.
11.05 pm: Mobile Internet and communication in Koi-Tash work with interrгuption.
11.25 pm: Some Atambayev's supporters have barricaded themselves inside the house. They await arrival of additional police forces.
11.30 pm: The Ministry of Health said 15 people with various injuries were taken to hospitals, including 3 to Chui region hospital, 3 to National Hospital, 9 to Bishkek Trauma and Orthopedic Surgery Center.
11.43 pm: The police work as normally, the press service of the Interior Ministry said.
11.47 pm: Parliament Speaker Dastanbek Jumabekov is Talas. He will leave for Bishkek in near time, his press secretary Elvira Temir said.
11.50 pm: MP Dastan Bekeshev suggested the Parliament should hold the extraordinary session. "Violence is inadmissible. The special operation should be suspended. The Parliament should not merely watch the situation," he said on Twitter.
00.55 am: The number of the injured has reached 36.
01.10 am: MP Dastan Bekeshev said on his social media page that Deputy Interior Minister Kursan Asanov and National Security Committee Chief Opumbaev are holding talks with MP Irina Karamushkina, MP Asel Koduranova, Ravshan Jeenbekov.
01.45 am: The demand is only one – they should withdraw police forces, politician Ravshan Jeenbekov said following unsuccessful attempt to arrest ex-President Atambayev in his house in Koi-Tash.
"Atambayev is safe and sound. There are injured from both sides… There are many injured. There are serious gunshot wounds. We have put the only condition: withdrawal of police," he emphasized.
02.29 am: A group of around 100 people blocked the road outside Bishkek leading to Koi-Tash village with a garbage truck.
3.20 am: The spokesperson of the Interior Ministry of Kyrgyzstan said the situation in Bishkek is stable.
3.35 am: People gathered in Besh-Kungei village. They have put up barricades to block the road for vehicles
.
3.45 am: Almost all police forces leave Koi-Tash village. One bus with police was stopped by a group of people.
04:05 am: Deputy Interior Minister Kursan Asanov commented on the negotiations with Almazbek Atambayev's supporters in Koi Tash, who took six special forces hostage.
04:20 am: Health Ministry said that Samat Kurmankulov, head of the Chui region police department, had fallen into a coma.
05:20 am: Interior Ministry reported that police officers left the village of Koi-Tash to avoid further clashes with citizens. The law enforcement agencies did not use firearms against citizens.
To be updated