Supermoon wows skywatchers
AKIPRESS.COM - This month's full moon came the closest to Earth that it has been since 1948. Skywatchers and astrophotographers flocked to see the big, bright moon in all of its glory Sunday night (November 13), reports Space.com.
The full supermoon peaked on the morning of November 14 at 8.52 am EST (1352 GMT), but it still looked "super" for about a day after its maximum.
Photographer Chris Cook took a self-portrait with what he called the "super-duper full moon" in the background on Sunday evening in Eastham, Massachusetts. Cook said that as the moon was rising, "it didn't look any bigger than other moonrises, but once it got higher in the sky later that night it did seem larger than a full moon at apogee," or the point in the moon's orbit at which it is farthest from Earth.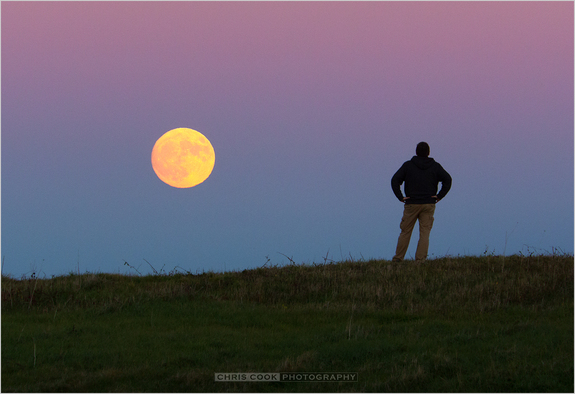 The difference in size between the supermoon and other full moons can be difficult to see – it only appears about 14 percent larger than usual. To offer some comparison with other full moons, photographer Bill Hood created the composite image that's shown above.

Photographer Stan Honda captured the photo of a WestJet airliner flying across the face of the supermoon after it took off from LaGuardia Airport in New York on November 13. Honda took the photo from Central Park in Manhattan at 4.50 pm EST, while he was taking pictures of the moon along with members of the Amateur Astronomers Association of New York and students from his night-sky photography class.
Honda said that he had not intended to take photos of airplanes when he set out to photograph the supermoon; timing was simply on his side. "The moon had just cleared the top of the building when I saw a plane flying towards the moon," he said. "I waited until the plane was just entering the disk and tripped the shutter."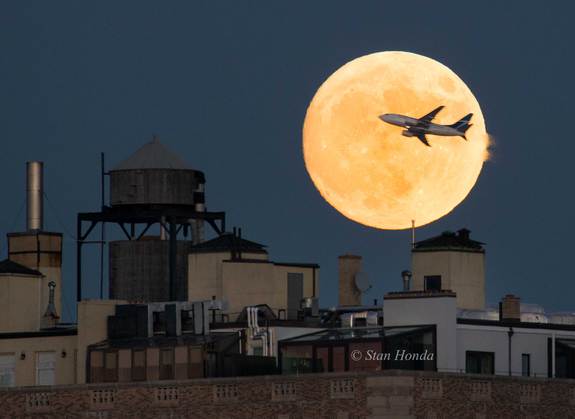 AKIpress photographer took the photo of the supermoon in Osh City. "The bright and large supermoon was glaringly obvious. In addition, when using particular optics, one could see the supermoon quite clearly, its relief and craters," said the photographer.
Photographers waiting for a chance to get out and photograph another big and bright full moon need not wait long. December's full moon will also be "super" – albeit less super than November's full moon.